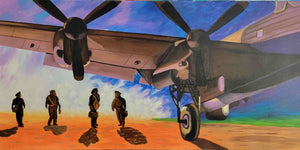 This is an art piece created by Amanda Frost in 2021.
It is an Acrylic on Canvas landscape depiction of a group of people walking into the sun with a plane in the foreground. The art is unframed. The size is 20x40.

To see if this painting is available for purchase, please call 403-885-6408.