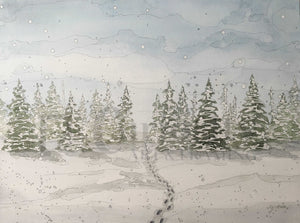 This is an original Watercolor artwork created by Marlene Kallstrom-Barritt.
This artwork is a depiction of a series of snowy trees with footsteps crunching through the snow in the midst of a snowfall in winter. The tones Marlene choose makes the crisp feel of winter in the painting clear to the viewer. Marlene paints the pictures, then attaches them to wooden panels and finally gives them a wax coating, this gives them a wonderful depth. It also makes it so the water color pieces do not need to be framed and can be hung on the wall as is.
Marlene created this artwork in 2020.
This artwork is 18" tall by 24" long and is unframed.
This picture is part of the "Winter Wonderland" Temporary exhibit. Come and see it in person through out the months of November and December.