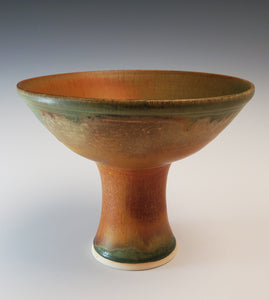 This is a ceramic bowl pottery created by Elizabeth Schapansky.
It has a warm orange to green finish, as is classic for the "Pumpkin Spice" series. The colours are reminiscent of the leaves in fall changing colours, or that of pumpkins ripening.
The bowl is made with B mix Clay and was put through a High firing process with multiple glazes. The work was created between the years of 2018- 2021.
The overall dimensions of the pottery are 6 3/4" tall by 7 3/4" opening diameter.
This piece is part of the "Pumpkin Spice and Everything Nice" Temporary Exhibit. Come see it in person throughout the month of October.