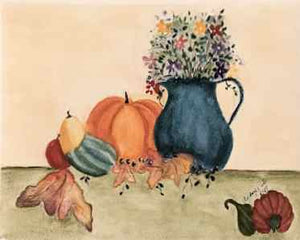 This is an Original Acrylic Artwork created by Audrey Rits.
It is an artist depiction of a bountiful table with a pumpkin and other squash, leaves and flowers. It is done in warm and vibrant colours. The piece is created with watercolour paint on a paper. 
The artwork is 10" wide by 8" tall and is framed.
It was created 2023
This piece is part of our "Pumpkin Spice and Everything Nice" temporary exhibit. Come see it in person during the month of October.
To purchase this product unframed please contact us.