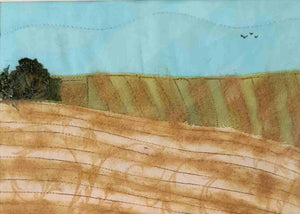 This is a textile original work created by Margaret Blank.
 It is an artist depiction of a field in the midst of harvest, with all the crop cut in rows, waiting to dry and be picked up.
It has been created by stitching, felting, and quilting fabric to create texture, shape and depth.
This piece is part of the "Matted Minis" series.
This piece was created in 2014.
The dimensions of the art is 5" x 7", and is matted with a green mat.