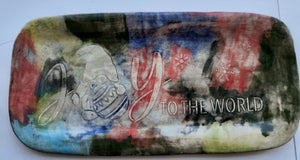 This is an original pottery piece created by Lyn Anderson
This is a dish with vibrant colours and the textured stamp phrase "Joy to the World". The colours are achieved with glazes and mixed clay during the mid firing process.

The pottery is made with Ceramic. The work was created in 2023.
The overall dimensions of the pottery are 7.25" tall by 15" wide.
This Artwork is part of the  "Winter Wonderland" temporary Exhibit. Come see it in person during the months of November to January.