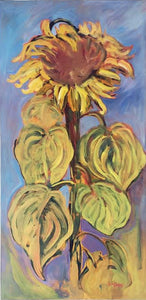 This is an original Artwork created by Betty Schnell.
It is an depiction of a single sunflower standing tall. The artwork is created with oil paints on canvas, which makes it so the colours can blend seamlessly while still showing vividly the movement the artist used to apply the paint, giving the work a sense of movement and texture.
The size is 20" wide by 40" tall.
This Artwork is Unframed.