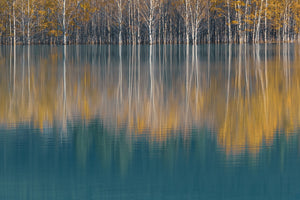 This is a photograph Created by Carmen Therriault.
This is a photographic print which depicts aspen trees in flooded water and their reflection on the surface. It looks as if the reflection on the water of the aspen's leaves look like flames of colour, giving this work its name. The orange and blues are crisp and contrast wonderfully with the stark white of the trees.
This print is done on pearlecent paper, and that gives the photograph a shimmer and pop to all of the bright hues.
The image is 12" tall by 18" wide.
To have this print in other formats, please contact us.