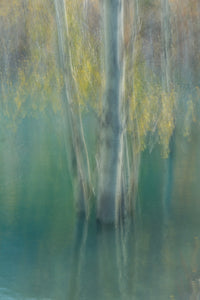 This is a photograph Created by Carmen Therriault.
This is a photographic print which depicts aspen trees, The image looks dreamlike and ephemeral from the technique Carmen decided to use. The greens and yellows are vibrant and attractive to the viewer.
This print is done on stretched satin Canvas, and that gives the photograph a dreamlike texture that melds well with the subject matter. It also means that this print is ready as is to hang on the wall.
The image is 12" tall by 8" wide.
To have this print in other formats, please contact us.