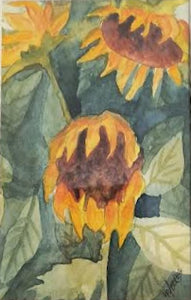 This is an original artwork created by Wendy Meeres.
This painting is an artist's depiction of a grouping of sunflowers. This piece is made with watercolour on paper, the watercolour paint gives it both a wonderful airy feel while still retaining bright colours.
This artwork was created in 2021.
The picture is framed in a white mat with a black frame, and the image is 7" tall by 5" wide.