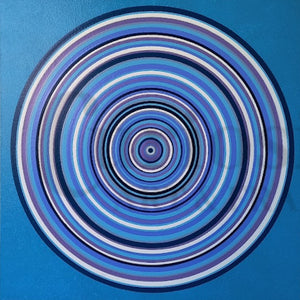 This is an original abstract Artwork created by Peter Caden.
This work is created with Acrylic paints on a Stretched Canvas. Peter has perfected the skill of crisply creating perfect circles in patterns with sharp lines. 
This piece was created in 2020.
The size of the piece is 24" tall by 24" wide.
This picture is part of the  "Winter Wonderland" Temporary Exhibit. Come see it throughout the months of November to January.